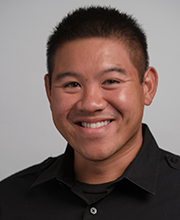 In October I received the call no one wants to receive. It was an area code I immediately recognized: Palo Alto, CA. I tested positive for a rare hereditary genetic mutation linked to an aggressive form of stomach cancer. With only a 1 in 500,000 chance of receiving the genetic mutation and 350 confirmed diagnoses world wide (at the time), I had won the lottery no one wants to win. By March I was in the operating room to have my entire stomach as well as 18 lymph nodes removed and begin the rocky road back to recovery. It has been the most difficult season my young family and I have encountered to date.
My story is not unique. No one is immune to storms in life, not even pastors like myself. In my role, I have the honor of walking alongside families through difficult times. While each person's circumstances are nuanced, there are a couple notes I have taken as my family navigates our stormy season.
Be brave. One of the comments I have received through my recovery has been, "You are brave." To be honest, I don't feel brave. I imagine brave people to be those who jump into burning buildings, or who have survived chemotherapy. This comment incited a personal quest to discover "bravery." I've discovered that the people whom we tend to call "brave" do not typically seek opportunities to be "brave." They are ordinary people facing challenging circumstances and choose to walk through it, rather than around it. The temptation is to ignore the problem hoping it will disappear, or seek distractions, but sometimes walking straight though is the only way to get to the other side. It sounds cliché, but with good reason: one challenge, one step, one conversation at a time. With each challenge, we develop the tools we need to face the next squall.
Identify your sailing crew. A football team in the area has a motto they shout before every game — "Win, together, together, together!" It takes vulnerability, but the people around us need to know we are counting on them. When the people you care most about in life know that you are counting on them through trials and triumphs it makes a difference.
Research from the Fuller Youth Institute suggests every teen needs at least five meaningful adult relationships in their lives to thrive. This number can seem daunting, but their network can be a combination of relatives, coaches, teachers, etc. Helping your teen identify people who speak value, unconditional love and truth into their lives can begin with a simple conversation. Encouraging your teen to tell those people he/she is counting on them creates intentionality for both parties.
I believe this ratio holds true for parents too. Parents need meaningful relationships in order to thrive. Whether this is found within a faith community or a group of parents from the soccer league, parents need to identify and nurture these relationships with intentionality. As you encourage and help your teen to identify five meaningful adult relationships, perhaps this is a perfect time to do a little soul searching yourself.
Wherever you are in your journey, we do not have to navigate these storms alone.
JOIN THE DISCUSSION
Who are your five meaningful relationships, and have you let them know?
How can you help your teen identify or develop his/her five meaningful relationships?
Share your thoughts in the comments section below.
* * * * * *
LOS GATOS TEEN THERAPY CAN HELP!
Would you like additional guidance in this area? Los Gatos Teen Therapy provides individual teen therapy, family therapy, group therapy, parent support counseling, and in-home teen and family coaching 7 days a week, including afternoons, evenings, and weekends. For more information, contact us at 408.389.3538.