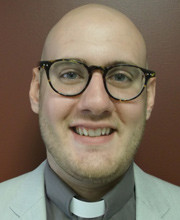 Like everything else in a teenager's life, coming into one's own sexual identity is a rollercoaster of emotions, peer pressure, and hormones. In his book Stages of Faith, James Fowler, a developmental psychologist, describes a person's spiritual development in a series of phases. He explains that most adolescents are in what he calls the Individuative-Reflective stage. In this stage, people begin to step outside the box of their family upbringing and notice the great diversity that the world has to offer. During this stage, adolescents will often begin to question the faith of their families and explore other avenues.
Fowler's stages can also apply to sexual development. Adolescence is that time when people become alive sexually. Teenagers begin to discover their attraction to others, and what they like. It is a confusing time and instances of rejection can make a young person feel truly depressed. As a pastor, I never anticipated how much I would be talking about sex and relationships with the teens with which I work. It comes up quite often. So often, in fact, that other pastors and I put together a sex and spirituality event for youth to ask any questions on their minds and to have experts discuss a range of different topics.
As most of you know, very few teens want to talk about sex and relationships with their parents. In fact, they probably cannot think of anything worse. So as a religious leader, I want to leave parents with a few tools that may help foster communication.
1. Affirm: If your teen begins a conversation about sex and relationships with you, it is best to affirm him or her. Whether it's about a crush or coming out as lesbian, gay, bisexual, or transgender (LGBT), affirming your teen is crucial. He or she has done a lot of work to get the courage to speak with you. You should express thanks and let him or her know how brave it was to speak out about this important part of his or her life.
2. Acknowledge: It's important to let your teen know that his or her sexuality is a gift from God. It is meant to be celebrated and life-giving. Too often, we have made such discussions taboo and that is what causes such discomfort.
3. Encourage: It is not helpful to tell your teens to simply avoid sex and relationships at all costs. Typically, that will lead to them making some poor decisions. Instead, parents should emphasize the power of making good decisions. Decision-making is something that is difficult at this stage of human development, but it is of the utmost importance for teenagers, especially regarding sex and relationships. A poor decision can strongly affect how one behaves in the future.
4. Follow-up: And lastly, it is important to follow up with your teens. The "birds and the bees" talk is not a one-time thing. It's an ongoing journey you are joining with your teen. Keep it casual and common.
It is my hope that conversations about sex and relationships continue to happen in schools, houses of worship, and homes throughout Los Gatos and the surrounding communities. Truly, it takes a village and we are all here to help.
* * * * * *
* * * * * *
LOS GATOS TEEN THERAPY CAN HELP!
Would you like additional guidance in this area? Los Gatos Teen Therapy provides individual teen therapy, family therapy, group therapy, parent support counseling, and in-home teen and family coaching 7 days a week, including afternoons, evenings, and weekends. For more information, contact us at 408.389.3538.